5.10.2023 - WoNO Client Update to v1.3

Author: Jacolos
Tomorrow (06.10.2023) 10:00-10:10 AM Server will be offline, client update v1.3 will be rolled out.
Update required.
This is security update with bot update.
27.9.2023 - Battles on WoNO

Author: Crash
One of our players, send as a clip from wars, this is how it looks like now on WoNO!
Movie created by Puchauke.
27.9.2023 - Update to v1.2

Author: Jacolos
Client has been updated to v1.2
If you have any problems with updater, just download client from website once again, and remove it from: "%appdata%/OTClientV8/WoNO Remastered"
21.9.2023 - Battles on WoNO

Author: Jacolos
One of our players, send as a clip from wars, this is how it looks like now on WoNO!
Movie created by Puchauke.
11.9.2023 - WoNO Game Update Alert

Author: Jacolos
Attention all WoNO players!
Tomorrow, there will be a client update. We advise all players to upgrade to version 1.1. This latest version includes a small rebalance that will improve gameplay, along with some necessary bug fixes to address known issues.
To ensure the best gaming experience, please update promptly. Thank you for being a part of the WoNO community!
WoNO will be closed tomorrow after restart for about 15-20 minutes.
So 10:00 - 10:15 AM server will be closed, and please update your client durring this time.
Regards,
WoNO Support
4.9.2023 - Important Msg about MCs

Author: Jacolos
In our ongoing efforts to ensure a fair and enjoyable gaming environment, we are implementing a stricter policy to maintain the integrity of the game and provide everyone with an equitable experience.
Starting immediately, we kindly request all players to abide by the following rules:
Multi-Client Limit: Players are permitted to have a maximum of two characters online from the same device or IP address. This limitation ensures that everyone has an equal opportunity to explore the world and engage in adventures.

Active Experience/Farming: Among the two characters, only one character is allowed to be engaged in experience gain or farming activities at any given time. This helps prevent unfair advantages and encourages cooperative play.
We appreciate your cooperation in adhering to these guidelines. We believe that maintaining a level playing field enhances the enjoyment for all players and fosters a healthy gaming community.
Important Note: Any violation of these rules may result in severe consequences, including the possibility of account suspension or banning. Our Game Masters and Administrators will be diligently monitoring adherence to these rules to ensure fairness for all.
1.9.2023 - The Grand Launch is Today!

Author: Jacolos
Hello WoNOers!
Today is the day you've all been waiting for! The brand new WoNO server launches tonight at 6:00 PM (UTC+1), and we can't wait for you to experience it!
🎉
A World of Fun Awaits
Get ready for the ultimate gaming experience! Whether you're looking forward to team battles, solo adventures, or in-game surprises, we've got it all!
⚔️
Many Wars Await
Prepare yourselves, warriors! Numerous conflicts, challenges, and rewards are coming your way. Are you up for the challenge?
🛠
New WoNO Engine
We're proud to unveil our new game engine, which promises smoother gameplay, stunning graphics, and features you've never seen before in WoNO. This is truly a game-changer!
💖
Community Collaboration
Our team wants to extend a heartfelt thank you to our incredible community. Your dedication, support, and active participation have been invaluable. This achievement would not have been possible without your help.
🕕
Launch Details
We'll go live today, 01.09.2023, at exactly 6:00 PM (UTC+1). Don't miss out on being part of WoNO history!
See you in-game,
WoNO Team
29.8.2023 - F. A. Q.

Author: Jacolos
FAQ: Everything You Need to Know About Wono Game's Character System and More
1. Can you unlock a character that you can't create in the account maker?
Yes, but by completing missions, you can find them here: Character System. The Character Loss feature allows you to randomly unlock a character from a pool of characters, which will be in the form of an item for trading or exchanging with others.
2. Is the character unlocking permanent?
Yes, unlocking a character is permanent for your account across all seasons.
3. Will the character skins be permanent?
Yes, the skins you purchase are permanently tied to your account and can be used for the same profession across different characters.
4. Will the server ever be deleted?
No, when a season ends (which is determined by the players), the characters will be transferred to another server named "Eternal." All subsequent seasonal characters will be moved there as well.
5. How does the referral system work?
At this link, you can find your referral link. If someone uses it or enters your username during account creation, you'll earn extra premium points if that person purchases premium points (around 5%). The invited person also receives a small reward upon reaching level 100 on their account.
6. How is stamina regenerated?
Stamina regenerates as follows:
2 mins off = 1 min of stamina
3 mins of standing on trainers = 1 min of stamina (up to 39 hours, without premium stamina)
Premium Stamina: 39-42 hours, regeneration rate is 6 mins off = 1 min of stamina
7. How often can you complete Daily Missions?
Daily missions can be completed every 24 hours.
8. How can you reset daily missions?
In the Daily Missions module, there's an [Abandon Daily Mission] option.
9. How often can you complete Dungeons and Rifts?
After completing a Dungeon, you have to wait 22 hours to do it again. Rifts can be done without limits if you have a key.
10. How fast can you skill up while offline?
Offline skilling provides 80% efficiency if you have a training machine at home. Free offline skilling places offer 65% speed. Skill boosts also work during offline training.
11. Is there a command to stop boosts?
You can use !boosts stop and when you want to start it again: !boosts start [limit 3x per day]. Boosts also stops when you go offline.
HP Boosts also have another stop due to we don't want to work it in PvP: If you get attacked by a player, the HP Boost will temporarily stop and resume normal functioning if no player attacks you within a minute.
Note that all boosts, like 'ninboost,' are designed to work in PvE. These boosts add damage bonuses only in PvE to maintain a balanced PvP gameplay.
12. What happens to HP/MP increases if you switch characters?
It will be recalculated as if you have always been the new profession.
13. How do we skill up? Why aren't my skills increasing?
Traditional skilling only works up to certain levels. Beyond that, you need to utilize the skilling system found here or opt for offline training.
14. How many characters are available and when will new ones be added?
Currently, there are 18 free characters, 19 unlockable characters, and 9 premium characters that you can create by combining certain professions. This totals 46 unique playable professions. About 5-8 new professions will be added in upcoming seasons.
15. What is the maximum level set?
The maximum level is set to 1750.
Offline Training and Server Efficiency
Thanks to the 12-hour offline training system, the server can accommodate a larger number of active players without requiring everyone to stand on trainers during their free time. This also enhances the server's performance, addressing the lag issues that plagued the game in its early weeks. This was a primary goal for the complete revamp of Wono.
Regards, WoNO Team
25.8.2023 - WoNO New Edition: The Countdown Begins!

Author: Jacolos
Hello WoNOers!
The wait is almost over! We're excited to announce that the new edition of WoNO will be launched in just 7 days.
📌 Server Testing
Before the grand release, we have a couple of things to wrap up. We will be conducting server tests with a selected group of participants at normal rates to ensure everything runs smoothly. Your dedication and continuous support play a crucial role in refining the game.
🙌 Thank You Testers!
Your active participation in our tests has been invaluable. Thanks to your feedback, we've identified and resolved numerous issues, enhancing the overall game experience.
🔄 Points Transfer
For those of you who played on the old server, you can now transfer your points. Simply use the link below:
If you don't remember the passwords from old server, you can visit, our old page Old WoNO , and try to login there or recover your old credentials.
Option for transfering your points should be available for 1 year starting Today, but the old page can be turned off before that, so better to do it ASAP!
Additionally starting Today, Premium Points and PACC can also be purchased on our website.
📣 Character & Server Updates
It's a fresh start! All characters have been reset to ensure a level playing field for everyone. Remember, WoNO will now have two servers:
Main Seasonal: The primary server for the current edition.
Heaven: A permanent server where characters from completed seasons will reside. Even if a new season starts, you can always revisit this server. It will be updated concurrently with the main server.
We're excited about this new approach and believe it will provide an unmatched gaming experience for everyone.
Cheers to new beginnings,
WoNO Team
28.7.2023 - WoNO Remastered Preview

Author: Crash
7.7.2023 - Achievements

Author: Crash
Many achievements now have three levels, some even more!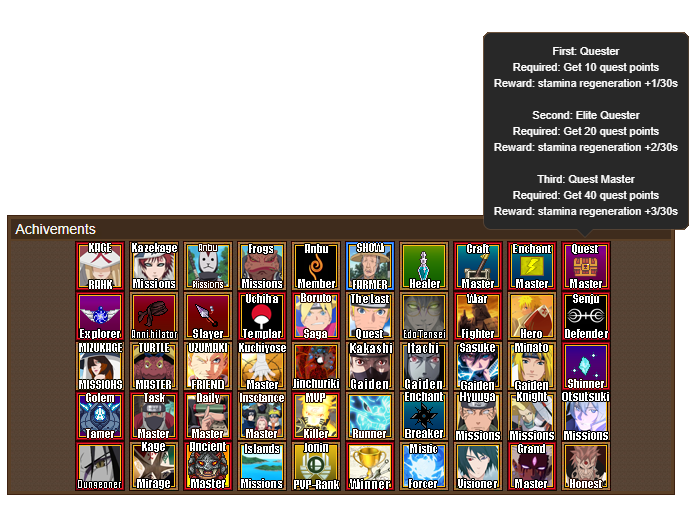 6.7.2023 - Missions

Author: Crash
There is no need to visit the website anymore to check what we should do in a given mission and what missions are currently available to us. Everything can now be found in the game client.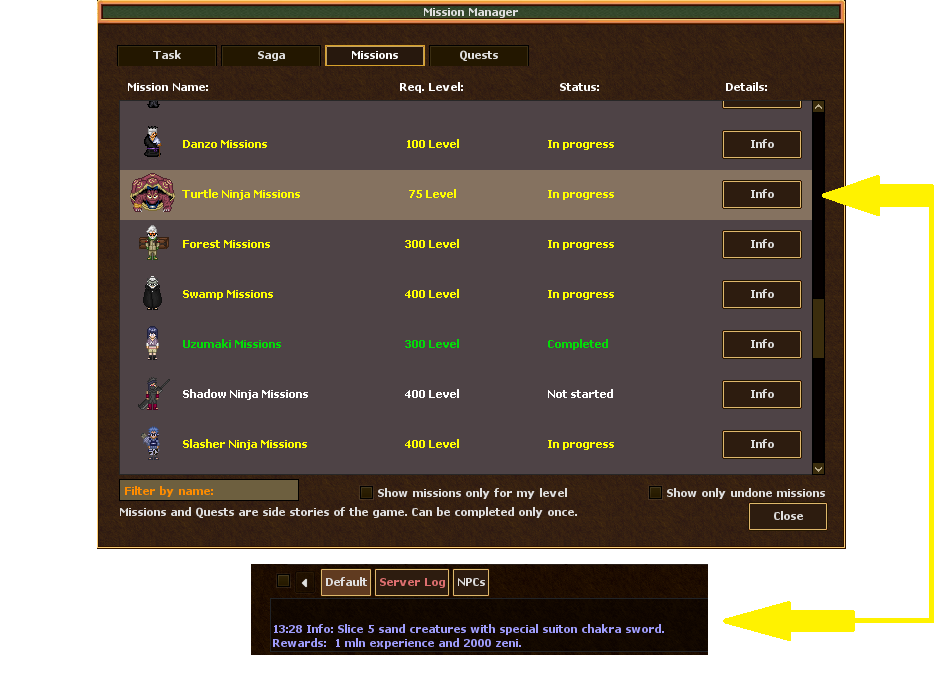 3.7.2023 - Quests

Author: Crash
The entire list of quests is now available in the game client. In addition, it is known that each quest has been completely scripted from scratch, which gives us, among other things, no errors and resetting each quest automatically after completing it by the previous player. Even a Quest like Hero Ring is immediately reset for the next player to complete.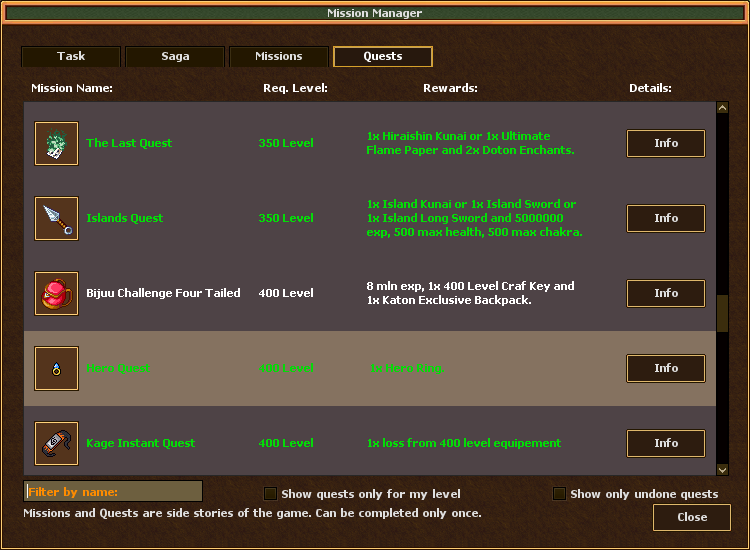 29.6.2023 - Daily rewards

Author: Crash
Daily rewards on WoNO for login.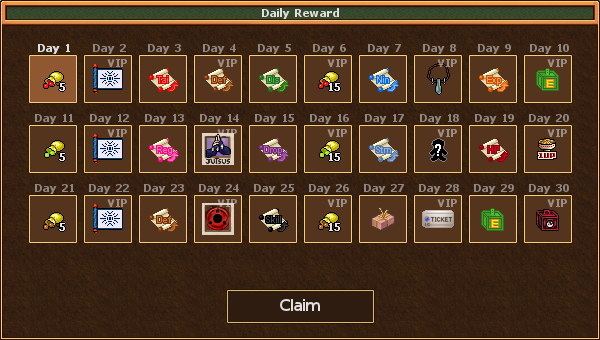 28.6.2023 - Monsters

Author: Crash
There will be many graphical improvements to monsters.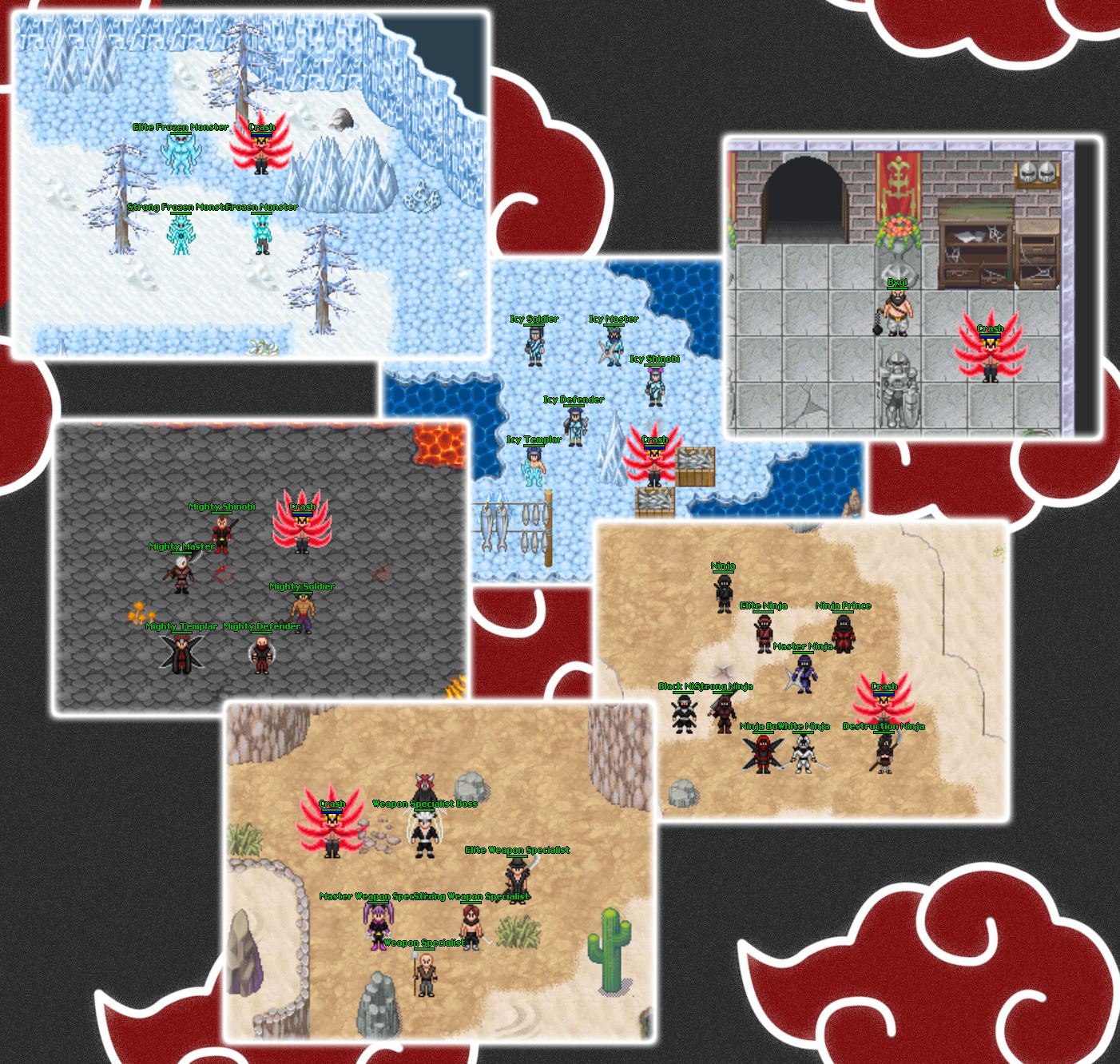 WoNO © 2023. All rights reserved.